What is Fishcare?
Fishcare has been operating in Victoria since 1995 and has since grown to cover 6 regions across the state.
We a community operated not-for-profit with the motto 'We Fish, We Care'. Our work promotes responsible fishing practices and increased stewardship of Victoria's aquatic environments and is funded through the Recreational Fishing Licence trust fund.
Fishcare is operated by enthusiastic volunteers with regional groups across Victoria, from Warrnambool in the west, to Ballarat and as far east as Mallacoota. Fishing is one of the most popular recreational pursuits in the country. Our aim is to promote responsible approaches to fishing and to share in the care and management of our precious aquatic environments.
---
Mission Statement
Shaping the sustainable future of recreational fishing in Victoria through education, hands-on experiences, communication and community participation.
Objectives
The objectives of Fishcare Victoria are to:
encourage recreational fishers to adopt sustainable behaviours and attitudes that conserve and protect fish stocks and increase community stewardship;

inform the community about threats affecting the sustainability of Victorians fish stocks, integrity of fish habitats and aquatic ecosystems;

participate in activities that support sustainable recreational fishing practices and opportunities, improved environmental outcomes and collection of research data;

promote sustainable recreational fishing as a socially beneficial and inclusive activity;

collaborate with partner organisations that support Fishcare Victoria's mission and objectives;

operate as a not for profit organisation and to provide volunteering opportunities for its members; and

maintain a public fund to be called Fishcare Victoria Public Fund for the specific purpose of supporting the environmental objectives/purposes of Fishcare Victoria.
---
The Fishcare Community
We work closely with the VIctorian Fisheries Authority and other organisations such as Department of Sustainability and Environment, Catchment Management Authorities, Landcare, Coastcare, local government, VR Fish and associated angling clubs, as well as many schools and disability support services.
Fishcare partners with local communities to conduct family-friendly educational experiences and activities. These are just some of the fun and educational activities Fishcare groups are involved in:
Learn-to-fish clinics and festivals

School holiday programs

Primary school programs

'Catch-a-Carp' events

Catch and release competitions

Community forums and workshops

Volunteer training and field trips

Work with other 'care' groups on local environmental projects
---
Our Staff
We have a small team of dedicated staff who work across the state to support our regional groups and coordinate operations. Our staff team work closely with our volunteers to deliver our current programs and with our Committee of Management to explore new funding and project opportunities and to continually improve our services and program delivery.
State Coordinator – Sarah Van Stokrom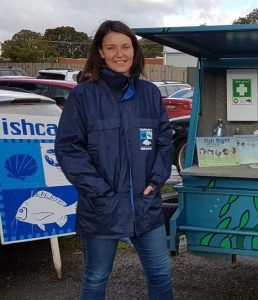 Sarah brings significant experience in environmental management and community engagement and has held previous positions with Bass Coast Shire, The City of Casey, Landcare and Parks Victoria. Sarah has a diverse skill set including environmental management, sustainability and well developed communication, business and project management skills. 
Sarah is an inclusive leader and has a great understanding of the value of transparency and the community of practice approach and it's role in developing strong collaborative teams and partnerships. 
Sarah is a keen recreational fisher
and looks forward to bringing to life new projects to engage and retain younger Fishcarers.
Phone Sarah – 0437 672 242 (Mon, Tues, Thurs, Fri)
---
East Gippsland Facilitator – Jenny Allitt
Jenny has been with Fishcare for over eight years and enjoys assisting children and parents gain the required knowledge and skills needed to fish with a sustainable mindset learned through the Fishcare Program. Jenny brings extensive knowledge of native and pest aquatic species and is passionate about people taking ownership for the different aquatic environments in which we share. Jenny enjoys sharing her knowledge with everyone, especially with the Fishcare East Gippsland Volunteers in all aspects of training and support and understands the importance of community engagement to strengthen partnerships to undertake and deliver NRM projects. Jenny enjoys all saltwater and freshwater environments, whether fishing, diving, paddling or surfing and is always looking out for any human impacts that may be affecting these aquatic systems.
Phone Jenny – 0400 008 081 (Mon, Tues, Wed)
---
Port Phillip/Mornington Facilitator – Jacinta Early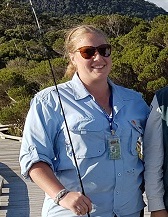 Jacinta has been a part of various volunteer based organisations since she was 15 years old, volunteering with Lifesaving Victoria, Marine and Freshwater Discovery Centre, Museum Victoria, Earth Care, St Kilda Penguins and Corner Inlet. After completing a study for fisheries in 2011, she travelled to New York to work and live on-board on the Hudson River Sloop Clearwater.  Jacinta travelled back and forth from New York in the summer to work as a Marine Biology interpreter and scuba diving videographer on Underwater Explorer in Port Phillip Bay.
Jacinta has been with Fishcare since the start of 2015, and has a passion for encouraging the community and future generations to care about the environment as much as she does.
Phone Jacinta – 0423 588 345 (Mon, Tues, Wed)
---
Geelong & Bellarine Facilitator – Mitch McMaster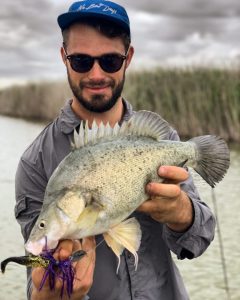 Mitchell McMaster, our Geelong & Bellarine Facilitator has a background in Environmental Science majoring in Marine Biology, which he studied at Deakin University in Warrnambool. This degree allowed him to foster and focus his passion for promoting and improving sustainable fishing practices while aiming to maintain and develop freshwater and estuarine management plans. In order to gain knowledge and experience, Mitchell has dedicated significant time to numerous non for profit organisations around Victoria including Estuary Watch, Coast Care Landcare, Science in Schools and of course…. Fishcare Victoria. He has been a part of our organisation for nearly five years and in such time has helped complete the Litter Dispersal project on the Hopkins and Merri River in and around Warrnambool, has acted as the secretary for the South-West group, participated and coordinated numerous events across the entire state and attended the Vic Fish Kids program running the the knot tying tent.
Mitch looks forward to the challenges that the new position throws at him while also improving the Geelong Bellarine Group by recruiting volunteers and developing rapport with stakeholders and community groups to achieve positive on ground outcomes.
Email Mitch – mmcmaster@fishcarevictoria.org.au
Phone Mitch – 0448 546 703