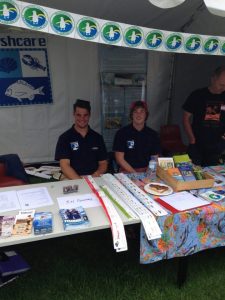 Fishcare Victoria offers a volunteer project based internship program where we welcome enthusiastic students and skilled young people to assist in the development and implementation of project based work. We seek to match interests, passions and skills to interns needs and provide opportunities to gain practical experience in their field of interest, whilst achieving our organisational goals.  Our Fishcare staff and volunteers will provide guidance, support, mentoring and training to interns through regular face to face and Skype meetings.
Below you can find some current projects that we are seeking interns to drive the development and delivery of. We estimate each project will require approximately 100 hours to complete. (Where appropriate, we encourage group work where 3-4 interns work together collaboratively as a project management team.)
 Workshop Delivery
Description: Learn how to deliver our FishRight workshops and in class sessions and assist us in creating sustainable anglers for the future. We deliver a number of Fishcare clinics that include education about:
Fish identification and understanding of fisheries rules and regulations;
Provide a real fishing experience;
Awareness of aquatic pest species and their impacts upon our local environments;
Impact of marine debris and litter;
Basic fishing instruction, including casting, knot tying and selecting appropriate tackle;
Sustainable fish handling and release techniques; and
Fishing safety.
This is ideal for students studying Teaching, Marine Biology, Sustainability and Environment.
Our staff will train to on all topics and support you to deliver these workshops. Get connected with our partners in the industry including schools, government, Victorian Fisheries Authority, Parks Victoria and local community groups.
Skills: Willingness to learn and develop skills including – facilitation, confident in presenting information, willingness to travel throughout Victoria (travel will be reimbursed at $0.30 per km) Working with Childrens Check
---
Workshop Videos
Description: The development of a series of training videos to be filmed with our equipment at Wilsons Prom on the 12th and 13th of November, 2017. Accommodation and meals provided.
Get Involved – Fishcare Promotional
FishRight Workshop
Get Hooked Booklet
Knot Tying
Fishing Clinic
OH & S
Risk Management
Rules and Regulations
Casting Clinic
Volunteer Induction – Intro
This project requires videos to be edited and put together by the volunteer and then to be used as promotional videos for Fishcare Victoria on our website and social media platforms.
Interests: Media, video editing, marketing
---
Case Studies
Description: The development of a series of case studies. We would like to capture the stories of our volunteers and why they choose to volunteer, how they got involved and what Fishcare is to them. We would like to develop some short videos and publications to be used on social media and our website. Interns would work with the support of Fishcare staff.
Interests: Journalism, article writing, media, video editing, social media, graphic design.
---
Volunteer Engagement Strategy
Description: Development of a volunteer engagement strategy to explore and guide the way we recruit and retain volunteers. We would invite the intern to present their recommendations and strategy to the board.
Interests: Strategic planning, strategy development
---
Marketing Strategy & Implementation
Description: The development and implementation of a marketing strategy to guide the way we promote ourselves and reach our target audiences. Depending on the strategy actions and recommendations we would welcome the implementation of a social media campaign, enews campaign (mailchimp), and other promotional tools. Interns would work with the support of Fishcare staff.
Skills: Social media, strategic planning, strategy development, marketing, promotion
---
Photography – Image Library
Description: The development of a photo library. During summer we have a number of fishing clinics scheduled and we would like to capture photos of these events. We are keen to take on an intern that can take quality photos and create a photo library (including photo consents) for use in our promotions.
Skills: Photography, willingness to travel throughout Victoria (travel will be reimbursed at $0.30 per km)
---