Want to become a volunteer? Here's what you need to know!
Fishcare aims to promote responsible and sustainable fishing practices to the next generation of anglers, the organisation is made up of passionate volunteers that feel very strongly about protecting and enhancing our fisheries, waterways and aquatic environments.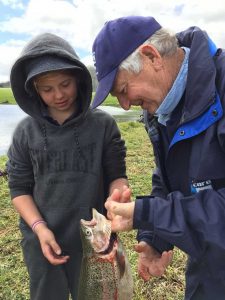 The primary role we play is to deliver Fish Right Workshops to school aged children pushing the messages of sustainability and appreciation of the environment around us as well as a few tips on how to catch a nice fish for dinner. There are many roles to play within the organisation in which volunteers can help, so if presenting an educational workshop to a classroom full of kids isn't for you that's fine. Some members play key roles in running the organisation, looking for funding opportunities, marketing the Fishcare brand, building relationships with agencies, stakeholders, community groups and even participating in habitat protection and enhancement projects. Here are some of the main volunteering activities our volunteers deliver:
Workshop Delivery
Volunteers deliver the core base of our Creating Sustainable Anglers funding requirements by running educational clinics statewide. This can involve community fishing clinics, incursions and excursions for school clinics and festival education. You will be presenting the content of what the rules and regulations of fishing are, how to cast a rod, how to handle a fish, safe fishing practices and much more! Some volunteers only feel comfortable teaching certain elements of our program and we are happy to play to your strengths.
Committee/board members
Committee members are responsible for the overall running of Fishcare and ensuring we meet our funding requirements. There are a variety of roles on our committees such as President, Vice President, Treasurer, Secretary and General committee. We have a State committee overseeing Fishcare as a whole; but also each regional group has their own committee.
Internships – Project based work
Fishcare Victoria offers a volunteer project based internship program where we welcome enthusiastic students and skilled young people to assist in the development and implementation of project based work. We seek to match interests, passions and skills to interns needs and provide opportunities to gain practical experience in their field of interest, whilst achieving our organisational goals. Our Fishcare staff and volunteers will provide guidance, support, mentoring and training to interns through regular face to face and Skype meetings.
Tabling
This involves travelling to various locations to set up a table (or trailer) to provide information for the general public. This can include what Fishcare Victoria offer, what are the Rules and Regulations around Fishing, general fishing information and environmental issues that we might be currently dealing with.
Fishcare would be thrilled to have you as a new volunteer to the organisation there are just a few small steps for you to take to getting involved and enjoying watching kids catch their first fish, it's pretty thrilling and very rewarding.
Here's what we need you to do:
1. Fill out the volunteer contact details form so that we can get in touch with you and fit you into your local Fishcare Group
2. You will need to read and agree to sign the Volunteer Handbook and Code of Conduct. All Volunteers are required to adhere to the Code of Conduct at all times, to ensure that Fishcare's reputation is esteemed throughout the community. Failure to comply with the Code of Conduct will result in a written warning, with further non-compliance to result in dismissal from the program.
3. All members (even those not planning on working in schools) require a Working with Children's check (WWC), these are free of charge as you will be applying as a volunteer, Fishcare Groups are happy to reimburse the cost of your passport photograph required for the application.
4. Once you have completed the above steps and the WWC has been approved you can commence your three month probationary period where you will be mentored by facilitators and senior group members in Fishcare activities. If all parties are happy at the completion of the 3 month period you will be presented with your uniform and badge.
l
Please complete our volunteer registration form to start the process!
l
l