How do I obtain a licence?
From 1 July 2017, Victorian anglers can buy a:
3 day licence for $10 (previously a 2-day licence)
28 day licence for $20.30
1 year licence for $35.70 ($33.60 if purchased online)
3 year licence for $96.70 ($91.60 if purchased online).
The easiest way to purchase an RFL is via the online form. The RFL is also available from many VFA offices and selected recreational fishing licence outlets  throughout Victoria, including most retail fishing tackle stores. An RFL may be purchased to come into effect on a future date, for up to one year from the actual date of its purchase.
It is your responsibility to hold a current RFL when fishing in Victoria. Your RFL may not be loaned or transferred to another person.
Do I need a licence?
A Recreational Fishing Licence (RFL) covers, all forms of recreational fishing in all of Victoria's marine, estuarine and inland waters.
Unless you are exempt, a RFL is required when taking, or attempting to take, any species of fish by any method including line fishing, bait collection, gathering shellfish, yabby fishing, prawning and spear fishing.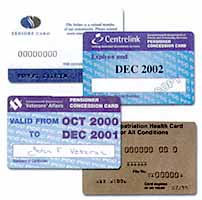 Who is exempt?
You will not need a licence to fish if you are:
under 18 years of age;
70 years of age or over;.
or a holder of a:
Victorian Seniors Card or interstate equivalent;
Veterans' Affairs Pensioner Card;
Veterans' Affairs Repatriation Health Card coded (TPI)
Commonwealth Pensioner Concession Card coded either (DSP), (DSP Blind), (AGE), (AGE Blind) or (CAR)
Or a member of a traditional owner group fishing within an area subject to a natural resource agreement relevant to that traditional owner group.
Ordinary HealthCare Card, PPS (Parenting Payment Single) and Newstart benefit cards do not afford an exemption to requiring an RFL.
What happens if I don't have a licence?
Fisheries Officers will be on patrol to ensure fishers hold a valid licence. Penalties apply for fishing without a licence.
To "Get Hooked" on fishing, check out our fishing tips below on how to get started!
(Information on this page has been taken from the VFA website – to see more information about fishing licences please visit: https://vfa.vic.gov.au/recreational-fishing/fishing-licence