Fishca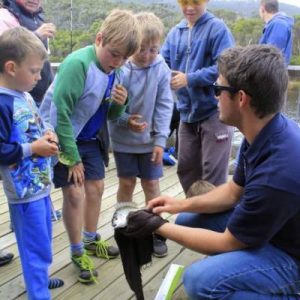 re has a base of staff and dedicated volunteers consisting of passionate anglers, retired professionals, marine biology students and employees of various councils, Catchment Management Authorities and agencies. They all share the common goal of improving the management, protection and conservation of our fisheries, waterways and riparian environments. All staff and volunteers have a current Working with Children Check. We have partnerships with school groups & holiday programs, angling clubs, community groups and all ability groups.
Topics covered throughout our clinics and workshops include:
Fish identification and understanding of fisheries rules and regulations;

Provide a real fishing experience;

Awareness of aquatic pest species and their impacts upon our local environments;

Impact of marine debris and litter;

Basic fishing instruction, including casting, knot tying and selecting appropriate tackle;
School Activities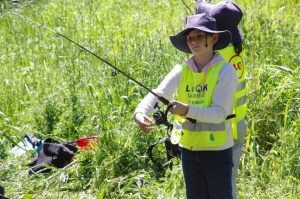 We run education activities with over 6000 Victorian school students annually with the objective to develop in students conservation attitudes and sustainable behaviours in respect to aquatic environments. If you are teacher and would like Fishcare to run one of our sustainable fishing programs at your school please contact us.
Creating Sustainable Anglers Clinics
Indoor activities (30-45 minutes), Fishing (1-1.5 hour).
We typically have two parts of our Fishcare clinics; theory session and fishing session. We can do this in one day or over multiple days.  For our theory session, we can cover a variety of topics such as;
Rules and Regulations
Fish Identification, understanding and demonstrating relevant rules and regulations, as well as learning to investigate and determine rules and regulations for a variety of recreational fishing circumstances.
Pest Species
Identification and best practice actions of various aquatic pest species such as European Carp, Northern Pacific Sea Stars, European Green Shore Crab etc.
Fish Anatomy
Multiple basic puzzle based activity looking at Fish Anatomy to draw connections for participants between form and function of various body parts of fish, building an understanding of the roles/niches various species fill in different ecosystems as well as enabling participants to learn how to "target" various angling species.
Fish Handling
By using demonstrations, we highlight the importance of fish handling to ensure safety for the fish and the angler. Using props to demonstrate and assess participants in landing methods, hook removal and release techniques.
Plug Casting Lanes
Mastering a variety of casting techniques for all situations, participants target timber "fish" with casting plugs to build confidence in their technique and accuracy prior to getting onto the water.
Knot Tying Station
A variety of knots with varying difficulty levels for different age groups. These can be incorporated in modern fishing techniques such as soft plastics and braid lines.
Fishing Session
For fishing session, we will supply all the equipment include rods, rigs, bait and expertise. We will work with teachers to choose a location nearby that works best for you and your students. We do require that teachers/chaperones attend these events with Fishcare volunteers to supervise the students.
Holiday Programs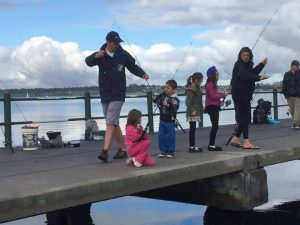 We run a number of school holiday programs across the state from Tidal River to Mallacoota, from Portland to Shepparton. We partner with other school holiday providers such as the YMCA, Parks Victoria, Portsea Camp and the Queenscliff Marine and Freshwater Discovery Centre to deliver holiday programs that are not only fun and adventurous, but encourage our younger generations to become stewards of our recreational fisheries in Victoria. contact us to register your interest and book an activity for the upcoming holidays.
All Abilities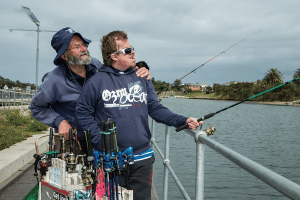 Fishcare rely on the hard work of their dedicated volunteers to bring fishing clinics to people with a disability, so everyone can enjoy fishing. Fishing clinics are held at Launching Way, Patterson River and Station Pier, Port Melbourne and are open to people of all abilities.  Carers or families of people with a disability are required to come along also. Please contact us to find out more.
Community Events
Our regional groups have information trailers that house our resources along with a number of fishing rods and tackle. If you are holding a community event and you would like to provide some information or interactive activities regarding sustainable recreational fishing, make sure you contact us to discuss how we might be able to support your event.
Below are examples of various community activities we can provide, but of course contact info@fishcare.org.au so we can customise your Fishcare experience!
Tabling
Fishcare can help raise awareness of various sustainable fishing methods by either having a stall, tabling or even bringing our Educational Trailer to provide resources and educate the public about rules and regulations currently in Victoria. We will bring as much information which is relevant to your event. Whether this be about Fishing rules awareness, volunteering opportunities or children's education Items that we can bring to help the community to fish legally and sustainably include, but are not limited to; current Fisheries Rules and Regulations books, "Weigh your Catch" rulers for saltwater, freshwater species and Kids activity books.
Casting Activity
Dry casting clinics for kids and adults to try their luck and learn how to cast a rod (without the risk of getting a hook to the face!). This way it doesn't impact on any set fishing areas if run in conjunction with an independent fishing competition but uses up any open areas at an event for more activities. Our rods have casting plugs on them so it simulates the weight of having a hook and sinker on there without chance of hurting anyone! We can add an extra element of fun by getting participants to cast the rod into the hula hoop and catch plastic fish.
Come & Try Fishing
We can run multiple set fishing clinics throughout the day where people sign up to learn about Rules and Regulations, how to measure their catch and of course, learn how to fish! We provide all the equipment, all the bait and all the expertise. We run "Come & Try Fishing" clinics around the state during the school holidays, keep up to date with where we are running things events by visiting either our website event calendar or on our Facebook Page. 
To "Get Hooked" on fishing, check out our fishing tips below on how to get started!